Wine Appreciation

In the past few years we have tasted wine from all over the world as each month a different member hosts the group and chooses which wines we should taste - sometimes by country or region, and sometimes by grape variety. We have all enjoyed trying wines which we would not normally have chosen so we like to feel our tastes have widened through belonging to this Interest Group. Whenever we can find a teetotal driver we love to take the Lerryn Minibus out for a spin to a local vineyard or wine merchant.
Sorry this group is full. But please contact me if you would like to be included in a second group. Contact Michael Furminger for more details.


Group contact: Michael Furminger
Telephone: 01208 872090
2022 schedule
We will continue with a regular fixture of 3pm on the last Monday of the month.
| | |
| --- | --- |
| 31 Jan 2022 | Eric Gadd |
| 28 Feb | Sue & Carl Watts |
| 16 Mar 7pm | Le Mistral |
| 28 Mar | Lindsey & Keith Southgate |
| 25 Apr | Helen Mills |
| 30 May | Michael Furminger |
| 27 June | Alan May |
| 25 July | Alison & John Hurst |
| 29 Aug | Nick Warwick |
| 26 Sept | TBA |
June meeting
Sadly, I didn't make this event as it looks like it was "La vie en Rose".
The theme was Rosé, with wines chosen by Alan and some really tasty nibbles produced by Marion. We had a very sociable afternoon with an interesting quiz on Rosé wines found by the May's. The quiz became a competition between our hosts and the guests. In spite of "help" offered by Keith, the guests won by 11 to 1. It might have been 12-nil if the guests had paid more attention to the difference between Centigrade and Fahrenheit!
Thanks to Nick for giving the report and to Alan for hosting the event.
May meeting
The May meeting was a small turn out but still a lot of fun. We were at Michael's house to enjoy a Alsace Gewurztraminer, a Pinot Noir from New Zealand and a French Gigondas from the Rhone.
As ever we each enjoyed a different wine but everyone went home happy.
April meeting
This month was at Helen's house where a small group met to enjoy four interesting wines and some excellent snacks! We had a white two orange wines and a red.
They were all a surprise with most people not inspired by the orange wines. They were white really. The sweet red turned out to be very similar to PORT and great value.
March meeting
This month was al Fresco in Keith's garden with the theme of Sauvignon Blanc from around the world. Our challenge was to guess where they came from. In short no one guessed all the right answer and there wasn't any agreement on what was best! Business as usual.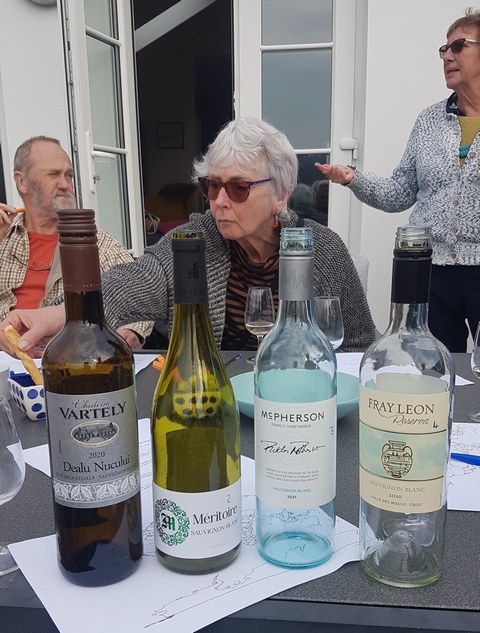 February meeting
This month it was a smaller gathering on a very wet day in Couchs Mill. Our hosts were Sue and Carl Watts. We were warm, dry and well fed in a very comfortable cottage.
The wines on offer were in the £8 to £10 price range from M&S or Waitrose so not hard to find
They were:-
To my mind the first Voignier and the last blended red, from the Midi France, were my favourites.
The group again seemed be very happy, this is a fun job!
January 2022 meeting
This month we had a wine tasting at Eric's home. His poster says it al
The wines were supported by excellent snacks, I particularly liked the smoked oysters!
November 2021 meeting
This month we had a wine tasting at the new wine shop in Lostwithiel "Le Mistral". Quite simply it exceeded all expectations.
First review the tasting list:

The host Eddie with support of the team including Tristan Groubier, the son of one of their growers from Nuits-Saint-Georges and the Shop manager Sara Mumford.
After a complementary drink we set to on the challenging task of tasking 14 (yes at least 14 wines). All fell into the host's categories of good, better or best. I wouldn't try to compete with the expert descriptions and explanations but it was clear all precent were suitably impressed.
Overall, we had a wonderful time with a couple of the group investing wisely in several of Eddie's bottles.
Good luck to Le Mistral the business deserves to thrive in Lostwithiel.
October 2021 meeting
This month the theme was the classics - as found in M&S. We tried a selection of white wine from South Africa, Australia and New Zealand.
The Chenin Blance was the first up, then followed by a bold Barrosa chardonnay.
The group thought hard, but the there wasn't an outright winner.
Let's say although it wasn't a universal opinion but the favourite was the New Zealand Sauvignon Blanc.
This wine showed its class as a clean grassy fresh wine - I might even buy a bottle!
Many thanks goes to Christine who was the host and the provision of excellent nibbles.
September 2021 meeting
The theme moved to something new and not too far away. The theme was "Cyder" from Somerset (Zyder frum Zumerzet). No ordinary cider but fine cyders made with 100% apple juice, using slow cold fermentation to release the residual sweetness of this humble fruit. That's what the people of "The newt in Somerset" say. We tried a range of single varietals and a fine cyder made by wine making techniques.
Nick or host guided us through 3 singe varietal cyders then a fine Cyder with an offering of Fowey Valley cider to contrast what we had tried.
Our host explaining with Eric testing !
The group considers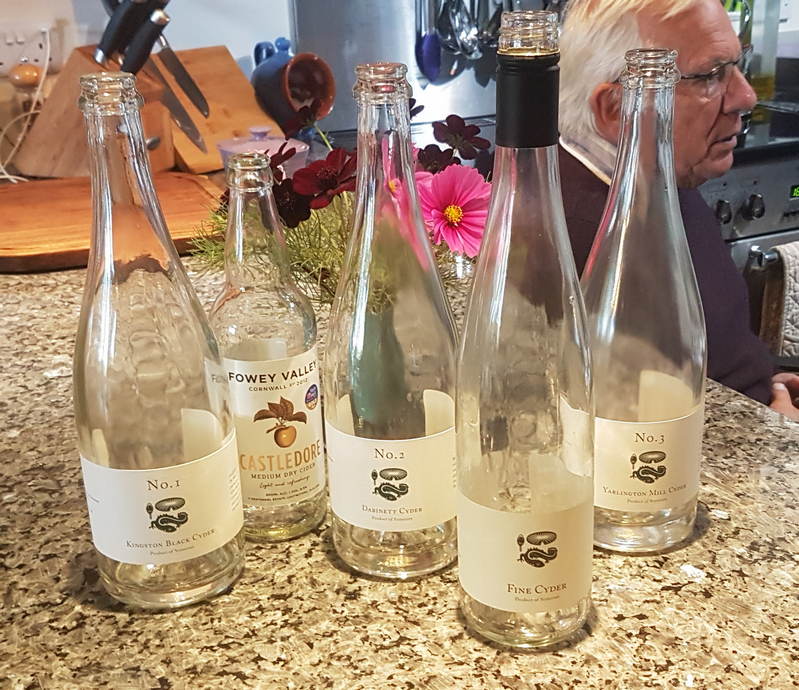 The empties tell the story. The groups seem to prefer number 1 Kingston Black cyder but I preferred number 2 the Dabinett cyder. Everyone agreed the Fine cyder was a wine quality drink, to be enjoyed with fine food. The local Fowey Valley cider was tried to compare with the other cyders. It was clearly for a different market.
The single varietals were all £9.50 and the Fine Cyder was £10.50, alcohol was around 6%. These drinks would make an excellent alternative to wine at a meal especially if you wanted taste with less alcohol.
August 2021 meeting
The theme for this meeting was "La vie en rose" at least that's what I thought.
It was all about the Pinks - mostly French with a touch of Aus.
We started with some fizz from Italy via Sainsbury. Prosecco based on Glera grapes with a dash of pinot noire.
We then tried a French Fronton a blend of grapes - a typical wine from the Midi.
We then moved much further south to try a wine of uncertain heritage but a pretty bottle from Australia.
When it came to the verdict on the wines all I could say was they were pink and ideal for a summers afternoon. The final vote was give in favour of the initial Fizz by some local wildlife.
July 2021 meeting
The theme for this meeting was FIZZ (not Champagne or Prosecco)
We were hosted by Alison with help from John (the waiter for the day) in a very sunny garden.
The fizz was a perfect choice for the day. The meeting was set up as a blind tasting of 3 wines. Naturally there was little agreement on favourite wines but the first and the last getting most voted of approval - the last seemed to be the overall winner.
The wines were revealed at the end as
Crémant de Loire Asda £9.00
Pinot Chardonnay 2019 Lidl £4.79
louis Bouillt Crémant de Bourgogne Sainsburys £11.00
June 2021 meeting
This was a get started meeting hosted by Michael Furminger.
We had a small group of 6 members sampling three wines
Looking at the table result it looks like the Muscadet Sevre et Maine sur lie was the favourite closely followed by the Pallafino from Biferno and the Uruguayan Tannat. The first two wines were from the Coop and the Tannat from Aldi. All great value.